Photograph by PDPics
The truth of the matter is that as long people can do something for free they will continue using a free product as long the level of quality they seek is met. I mean why pay for a service that can get for free right?
English is not my first language; meaning is not the language I grew up, Greek is. So like all the other millions of people on this planet I had to learn a language which was completely foreign to me and completely strange to my way of thinking.
My first contact I had with English was through the black and white movies
that I was watching when I was a kid.
I remember one of the first words I learned was People
the second one was Lamp
fast forward about 35 years, and I can say with a big certainly that my English have improved immensely (smile). Like many people learning a foreign language they learn phonetically
and sometimes until today I will make mistakes like think instead or thing or the other way around!
I started learning English
properly in elementary school. I improved to a great degree in high school, and of course, the university I went to I had to take English classes the first two years and a lot of the books and information I acquired over the years about my studies came from English written books which better allowed me to improve.
Later in life when I had my computer shop I improved my English as computer terminology is concerned
and I took my first online lesson of TEFL
(Teach English as a Foreign Language), and I am happy to say that was a lovely experience for me. I now can apply to almost all the countries of the planet that accept this kind of diploma, and I can be teaching in China or Japan Asian kids English or Latin America or-or-or.
Of course, now it's a bit impossible because of the really good job I have, but hey you never know, maybe after I retire, I can use that certificate.
Also, this course helped me, witness, a first hand where I was strong and where I was weak. I have a strong vocabulary in English, but grammar is my weakness until today.
Then something beautiful happened,  the world wide web (WWW)  grew up and became an adult conquering the hearts and minds of the entire globe. Most of the sites on the internet use the English language, according to with Mozilla's latest health report about the Internet.
 I quote from the report: "The Internet spans all corners of the globe, but its content isn't nearly as diverse as its reach. While only a quarter of the globe speaks English natively, 54 percent of the world's websites are in English."
Just by this piece of information, it's rather important that a good knowledge of the English language is a must if your business is to utilize the internet, and this day of age we live everyone makes an effort to have a presence online.
For me, after working with Grammarly almost a year now is the best and most accurate grammar checker in the market right now. Its features are amazing and cover pretty much all the aspects of the English language.
It scans your text in real time and checks for more than 250 advanced grammar rules!
It makes sure to check f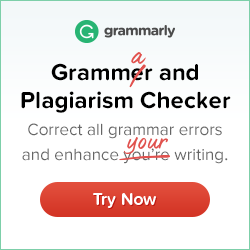 or Contextual spelling a few examples are, affect/effect, lie/lay, there/their/they're, lose/loose and many other words that are repeatedly confused by the general population.
It betters' your vocabulary by making suggestions of choices of words. By doing that Grammarly optimizes and improves the readability of your text.
When you have a mistake either grammar or syntax, Grammarly tells you why it is a mistake, gives you the theory behind it and also examples that further clarify the mistake.
I improved my English immensely through Grammarly because it acts as a tutor at the same time, it corrects errors while at the same time is telling you the reason is correcting them.
It corrects far more mistakes than Microsoft word
, and you can install the service everywhere,  on your browser, Microsoft word
editor, outlook and even in a lot of social media like Gmail, Facebook, Twitter, Tumblr, LinkedIn.
You are not a slave to a computer with Grammarly you just log in to your account from the Grammarly page, and you can use it whenever you are in the world.
The single fact that I can enable the Plagiarism feature and instantly tell me if I have unoriginal text in my article for me is all the money. This way I make sure I will not get in trouble with other writers.
Sometimes we use same sentences with other people it's only natural, there are millions of people using the English language reading the same books and is possible sometimes to have big parts of your article with unoriginal text.
With Grammarly, you don't have to worry about that. It has a database of more than 8 billion web pages that checks to see if the text you are writing is similar with any of the text they contain.
 If you are a student or a professional writer or even an indie writer, then Grammarly is for you. If you are a business man or a woman a full-time blogger or an even a part time blogger, then Grammarly is for you.
It doesn't matter what kind of work you do if you use English in your everyday working environment Grammarly has the correspondent plug-in for your type, genre, and style, it is very adaptable and versatile program, and it is always improving.
My experience and my personal Grammarly story
 When I started blogging about two years ago, I soon realized that I needed to be able to write articles in proper English. Otherwise, people will not read them, even if my content was good and useful, bad grammar, spelling and bad syntax will kill a good article to its birth!
At first, I relied on the spelling of Microsoft word and of course on my knowledge and a lot of book's of grammar, vocabulary, etc. always open on my desk while I was writing my article consulting them.
The whole procedure was taking a lot of time, even that I was improving thus becoming faster I needed a tool where I could address issues like grammar, punctuation, sentence structure, style, vocabulary enhancement, and contextual spelling. Lastly but not least I could recognize and deal with plagiarism effectively and in a less time allowing me to use the time I would save to invest it in other areas of my life, like my hobbies, running races, improving my skills like making covers for my books, or write more article or books. (put the infographic here)
After paying a lot of money to have my first three articles on my blog edited and rewritten, I realized that if I wanted to become a successful blogger, then I would have to find a tool that would allow me to correct and prepare my articles fast, easy and cheap.
Waiting for an editor to correct my article was not fast. Let's say I wrote an article about a 5k race
that is going to be held on in the future; I naturally want the article to be published before that date because I want to inform people about it. Let's say the editor cannot deliver the article before the 5k race then the whole effort of writing it in the first place just flew out of the window, nobody wants to read about old news!
Also if I want to have the article ready for the 5k race date, then I will have to pay the editor more money to expedite the procedure which is another added cost and of course the whole procedure is not easy.
I will have to get the article check it out, most of the time there are some issues with it I might send it back for another review from the editor and this take time and is general psychologically is wearing you down.
Now if you are writing like one big post every month then having an editor is not a bad idea but for me where I write every day 1000 words regardless if I publish every day or not having an editor is not ideal.
It's slow, costly and unproductive at the end of the day.
That's when I started looking for alternatives, and I found a lot of programs out there that do exactly of what I was looking for, naming a few   Ginger,  GrammarBase,   PaperRater,  SpellCheckPlus, Slick Writely the list is endless.
A good article about similar programs like Grammarly is this.
I did experiment with a few of them, but I end up choosing Grammarly for all the reasons I mentioned above.
As I mentioned earlier before using Grammarly I was heavily using lexicons, grammars and vocabulary paperback books which were time-consuming and also the Microsoft word checker which let's face it it's good but not to the extent of Grammarly's capabilities trust me; I know.
After I wrote and finished my first book Thirsty for Health
back in 2015, the whole procedure cost me around 600 dollars! From writing to editing and rewriting, publishing and so on.
The book was 60000 words, and it's my biggest book. After that endeavor, I decided that smaller books in length, self-help books, books with condensed and packed with knowledge are a better seller in Amazon than big chunky books. It costs less to proofread a 10 to 20 thousand word book than a 60 to 80 thousand book, its logical like Spock
would say yes I am a Trekkie deal with it. (wink)
Before Grammarly, it would cost be about 20 to 40 dollars to have my book (10 to 15 thousand words)  edited and proofed read. Now it doesn't cost me anything!
Well, it does because Grammarly is not free. It does have a free version, but it is not as effective as the paid version. To be fair, the free version comparing it with other similar language checker programs does a pretty nice job. If you want to correct minor mistakes, then you can get by with the free version.
I used the free version for a few weeks before I proceeded and bought the paid version. It was the adaptability and great functionality of the free version of the Grammarly service that convinced me to buy the whole package.
The volume of articles I write per month and the research and prototype books I also produce per month for me is a bargain using the paid version of Grammarly.
Let me give you a real time example based on my writing quota.
If you want to run a 5k race, then you must train for at least 12 weeks before attempting to finish a 5k race. In short, practice makes perfect, and training brings experience. The same philosophy that I gained from years of running races, I apply now to writing. I make sure before I go to bed every weekday or weekend doesn't matter to write 1000 words!
So monthly I output roughly from 25 to 40 thousand words! That could be 25 to 40 articles of 1000 words, or 20 articles of 2000 words and so on, or could be two books of 15 thousand words.
If I assigned the proofreading of those 40000 words to an editor his asking price would be a minimum of 80 dollars every month, multiply that by 12, and you have a nice figure of 960 dollars!
Grammarly costs me $139.95 for a year! Now for me, that's a bargain.
I don't have to wait for editor's deadline anymore, and I don't have to deal and stress with human nature
that is full of mistakes. One good example is one of my favorite book: My Weight Loss Journey: How I lost 44 pounds and never gained them back using a plant based diet.
went through three editors. I finally managed to eliminate once and for all the mistakes after I proofed it using Grammarly!
So now with my current writing quota, I am saving about 800 dollars a year, money that I can spend in other areas of my life.
Pros and the Cons of Grammarly.
They say that if you give a review for a product or a service and don't at least report one disadvantage, then people will not take your review seriously or discard it as biased.
Well, I am not going to lie, I can't find a bad thing about Grammarly. I had a few minor problems at the beginning with the add-ons in the Microsoft word application, but these things are common and are solved now.
The support of Grammarly personnel is awesome; they are top notch and professionals. The price if you compare with what Grammarly offers is ideal for me as I mentioned earlier.
Every week they send you a report telling you how many words you corrected with Grammarly gives you an analytical report of where you made the most mistakes what kind of mistakes and so on. (See photo on the left)
The service is simply amazing!
Two items that some people might find a disadvantage might be one the price. There are other similar programs out there that offer similar services with less cost per month, but from my experience with Grammarly thus far  I don't think they are in the same level of excellence as Grammarly is. Second, you can't use Grammarly offline, you need to be online to be able to use it.
A third  item that I noticed recently is that Grammarly removes the ability of opening a link in another tab if you correct your text in your word press editor. More plainly, if you set up links in your text to be open in a new tab if you correct the text with Grammarly after it removes the new tab option and you have to apply it again.
So now what I do is I correct the text before I insert any links in my text.
Is Grammarly for you? Do you need it?
To identify if you should or shouldn't use Grammarly, please read on.
This service is for everyone that deals with the English language, makes a trade using it, communicates and use it in his/her everyday life to conduct business or not.
The only person that I guess doesn't need Grammarly is someone that commands a high level of knowledge of the English language, like English teachers or Professors that spend years working with the language, experienced writers.
But even these people who have an excellent knowledge and usage of the English Language can benefit from this service; the first thing that pops in my mind is the plagiarism characteristic! Imagine being able to finish an article and knowing in advanced that it is unique down to the last letter because Grammarly does all the work for you by comparing your text against the  8 billion web pages that are in her database making sure of your text uniqueness.
For some people, the economic aspect is the main obstacle of why they do not proceed with the acquisition of the paid version of the program.
As I demonstrated above for me having the paid version of Grammarly is a bargain.
You should do the same simple mathematical thought I did too.
Sit down and calculate how much you spend either in money or time or both on proofreading your documents and then compare it to the annual service of Grammarly which is the most economically advantageous to have. If you spend more on editors and also waste a lot of time trying to correct your text yourself then the path it's pretty clear of what your next move should be!
Who will gain the most from using Grammarly?
Everyone that uses the Grammarly service can gain a lot both in time and money. If you have a blog for bloggers then Grammarly will ensure that every blog post you write is grammatically correct and in high quality, the plagiarism checker will ensure that there is no unoriginal word in your post.
If you blog for students then Grammarly acts as a personal proofreader helping to make essays a piece of cake. Also, the plagiarism tool again will help the students to cite their paper sources accurately.
If you blog for writers it goes without saying that proofreading is paramount for professional writers and also good writing keeps customers and publishers happy.
If you blog for professionals Grammarly will help increase professionals productivity and help them write and send better emails
 Conclusion
Grammarly quickly and easily makes your writing better.

Instantly fix over 250 types of errors, most of which Microsoft Word® can't find.

Find the perfect word every time with context-optimized synonym suggestions.

Learn from your mistakes so that you can avoid them next time.

Whether you're writing emails, essays, or social media posts, Grammarly has your back.
Grammarly corrects over 250 types of grammatical mistakes while also catching contextual spelling errors and poor vocabulary usage.
Grammarly helps you write mistake-free on Gmail, Facebook, Twitter, Tumblr, LinkedIn, and nearly anywhere else you write on the web.
Grammarly's powerful grammar-checking algorithms are developed by the world's leading authorities on linguistic technology.
Grammarly scans your text for proper use of more than 250 advanced grammar rules, spanning everything from subject-verb agreement to article use to modifier placement.
Correctly spelled words used in the wrong context mean embarrassing mistakes for you. Grammarly spots erroneous use of lose/loose, affect/effect, lie/lay, there/their/they're, and many other commonly confused words.
Words can make an impact, or they can fall flat. Enhance your sentences with Grammarly's context-optimized word choice suggestions to instantly improve the readability of your document.
I hope I shed a light about Grammarly!

Have a healthy and happy day.
My warmest regards,